Recipe: Creating Vitality with Color
Radiance with Vitality Colors
"If not now, when?" I thought to myself! I think back to the vision that inspired me to recreate my home for vitality and radiance in my senior years.
I will show you how I went about thinking through this vision. How I confronted challenges, and ultimately discovered new colors and art that are energizing me into my seventh decade!
INGREDIENTS
Your Chakra Colors
EACH OF US have distinctly different color wavelengths flowing through our mind body spirit chakras! We shouldn't try to fit into a narrow, manufactured design aesthetic!!! Each individual requires her (& his!) own harmonizing colors to unlock vitality from within.
We each blend jewel tones with pastel colors to meet our fluctuating needs for vibrancy. When we feel empty or overwhelmed, floaty or muddy ~ we step away and find fresh colors until we return to our natural state of radiance!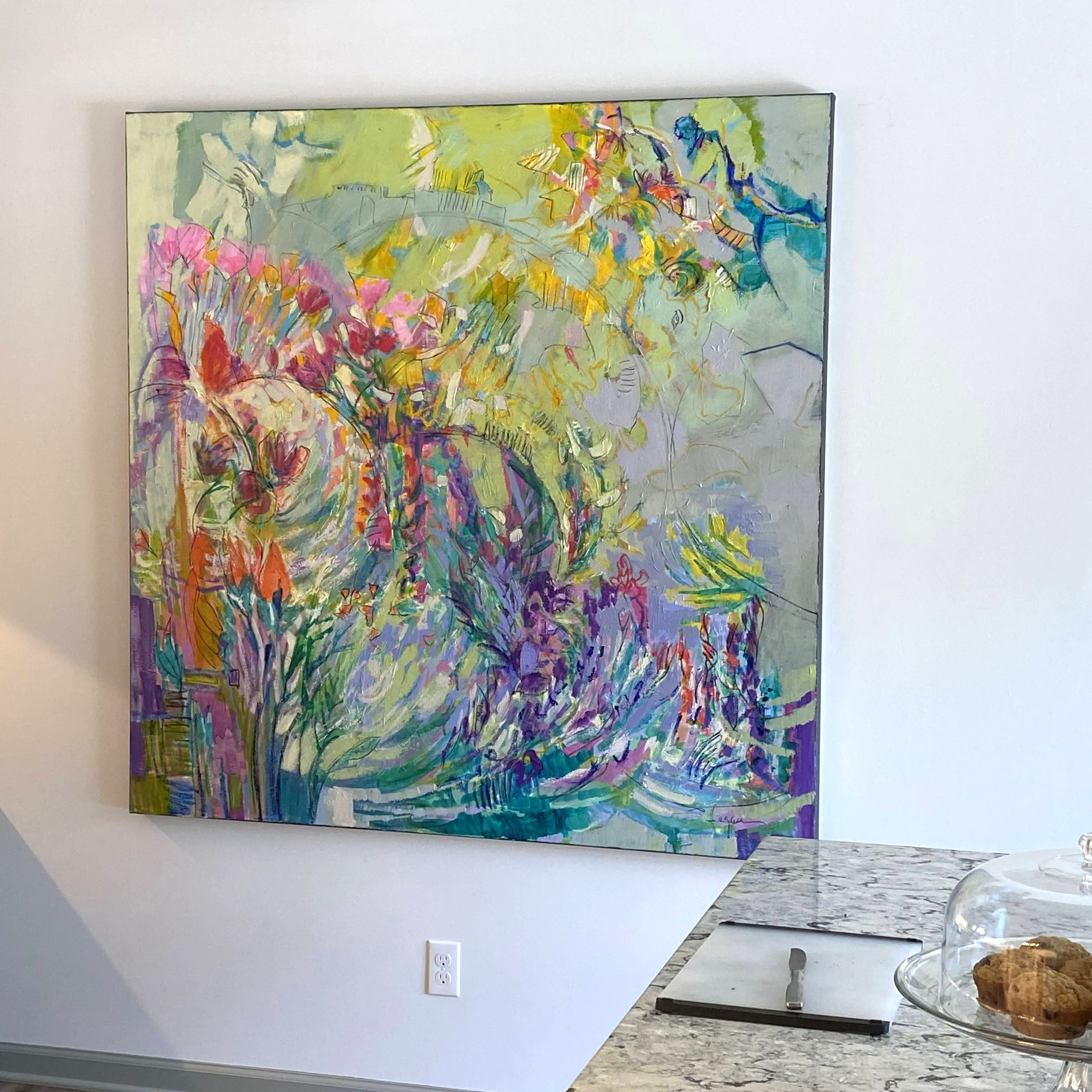 PROCESS
Envisioning art walls embracing me on either side of my great room ~ one large wall in the kitchen to draw people to my bar where I would serve them ~ while art in the dining area invites people to spread out and enjoy!
​Oracle of the Moon, Grace exudes my love of the garden. Just outside, my wildflower garden beside the pond awaits spring ~ my place in the sun to bask! I call it the Meadowlands, that sacred place inside where I am at peace.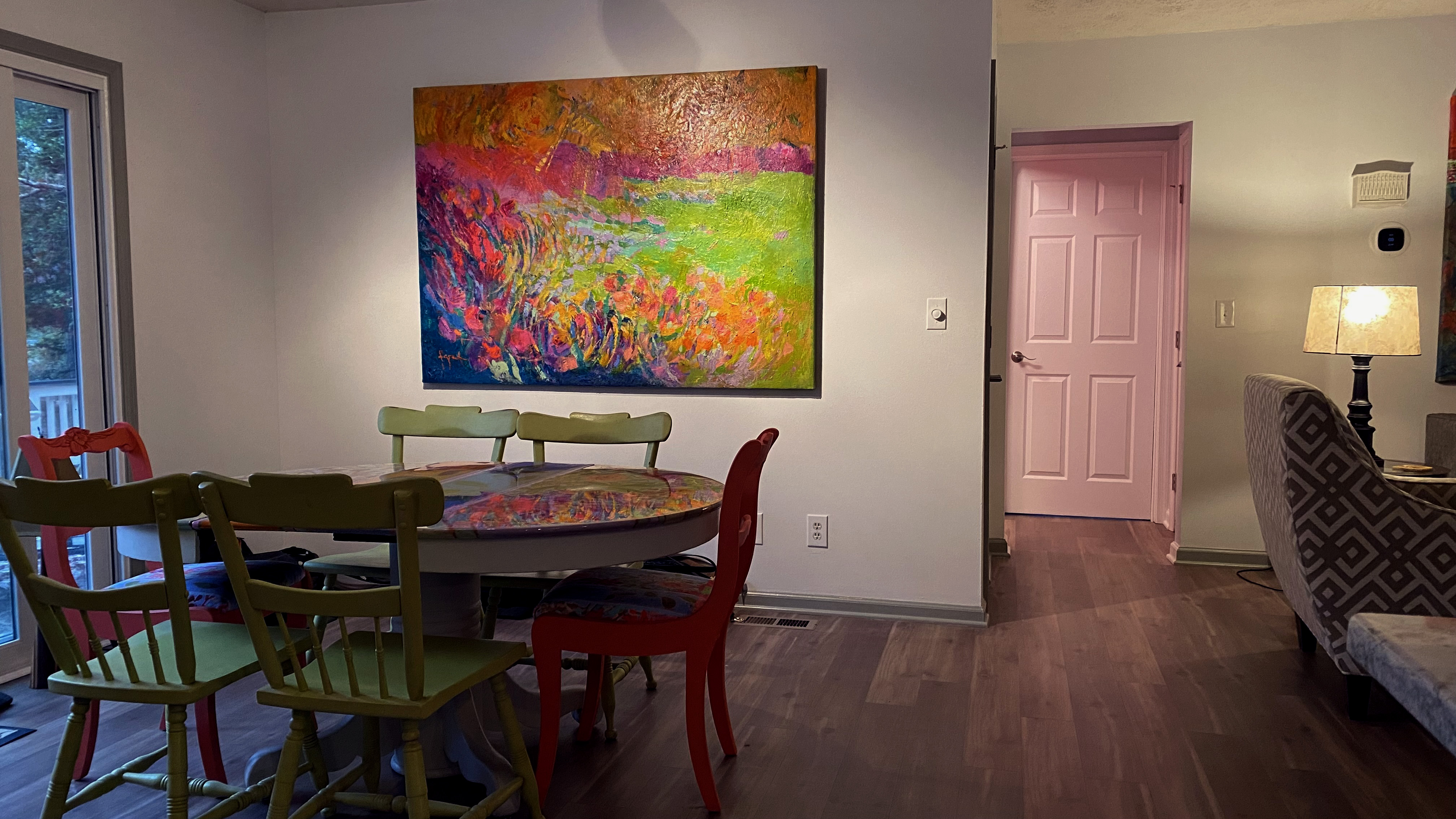 I repainted a table from my dad's house (sealing it with epoxy) ~ transforming my messy palette table to the inspiration for my own line of home decor fabrics!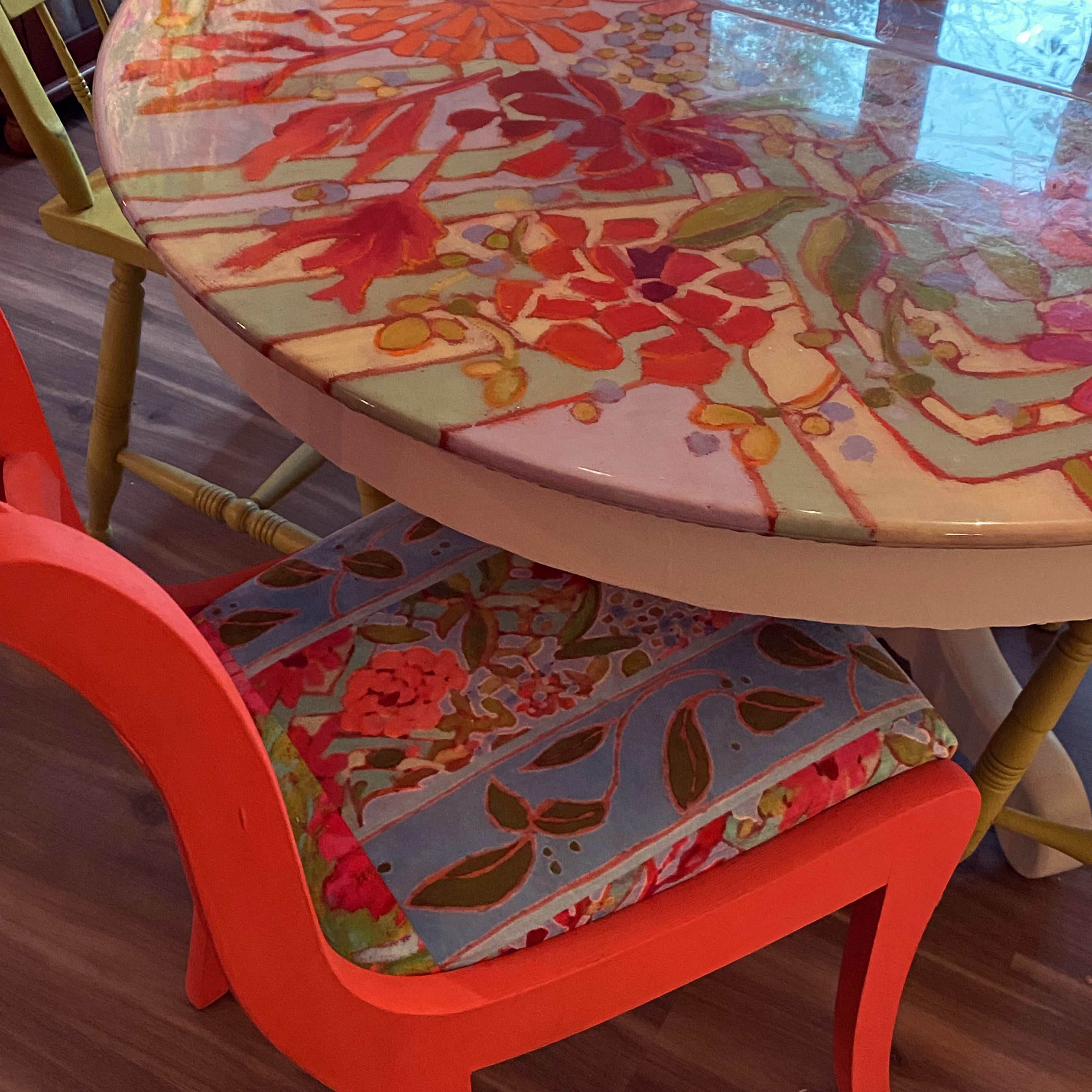 The chair is upholstered with Wildflower Jewels in performance velvet. You can shop them now on Spoonflower, or get my designer line via Color Prowess Home Design.​
​Garden of dLight balances the dining area with the same palette as Meadowlands by leaning toward heart centered greens, with only a few pops of coral and pink.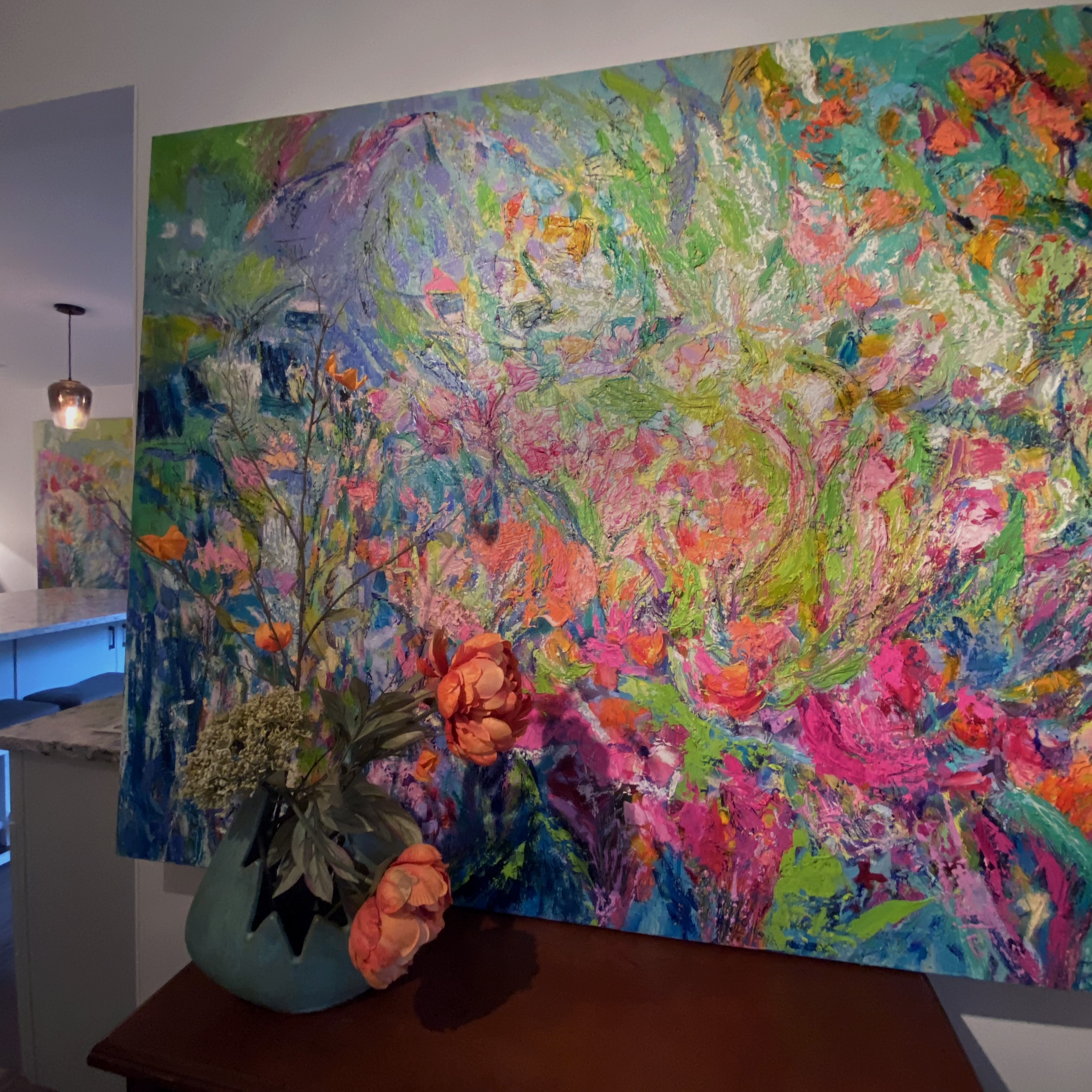 ​Cultivating Graces creates a more soothing, comfortable space for nesting after dinner by grounding the palette with earth tones, deep teals, and purple. The Superwoman throw picks up colors from them all, wrapping me in all of me as I nod off in front of the tv!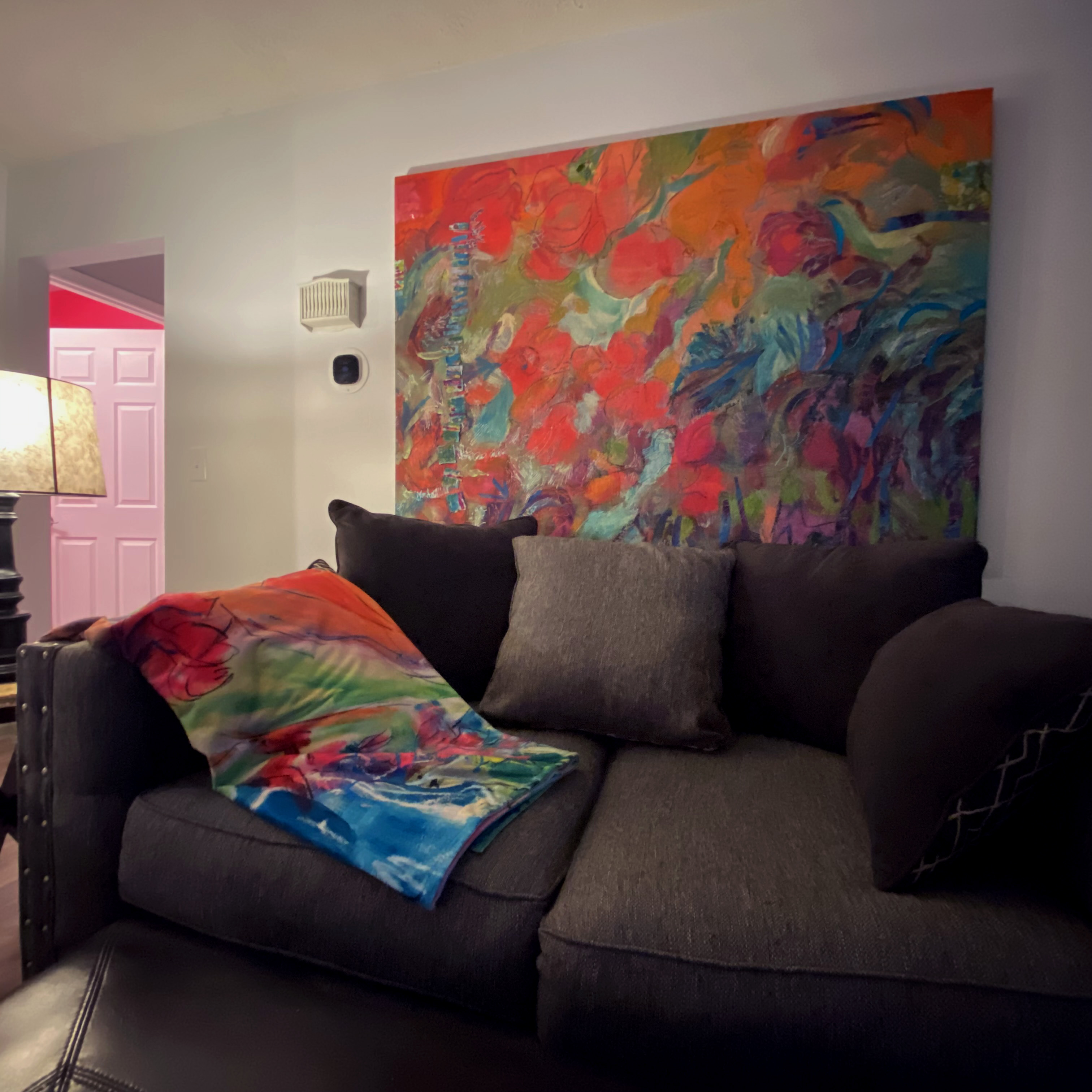 Oh yes! I painted the powder room Viva Magenta ~ BEFORE Pantone announced it as a new signal of strength Color of the Year for 2023! But that's a story for another day.
​
from Inspiration to heART ~ see it all!
Hear the inspiration behind my newest oil paintings, pastels, acrylics, watercolors, collage, fiber art, and one-of-a-kind rugs, fabrics, home decor ~ and stir up the healing power of color.
Are you someone who wants to know how I do ALL that I do?
How I process oil paintings, pastels, fiber art, designs for rugs, fabrics, decor, the whole creativSOUP story???