Taste Oranges with Greens & Fruits of Passion for a Viva Woman
TODAY'S RECIPE
Viva Woman Vitality
Balance Your Chakra Colors for Spring Equinox Energy
This time of year ~ EQUINOX ~ balance is key. Colors in these Viva Woman Vitality recipes are designed to start with ingredients you have already, and infuse fresh spring vitality colors to create renewed harmonies.
INGREDIENTS
2ND CHAKRA ORANGES >feeds creativity
4TH CHAKRA GREENS   >feeds heart
CREATRIX CHAKRA MAGENTA >feeds creatrix/short cut to magical heart 
Ingredients combine chakra colors that soothe and uplift all at once ~ viva magenta, fertile meadow greens, and creative orange. I just LOVE the feeling of orange juxtaposed with viva magenta! 
I painted all four walls of my new powder room a deep hot pink (long before Pantone announced its Color of the Year 2023.) I know you can just taste that tangerine with these berry pinks. With flecks of green, so envigorating!!!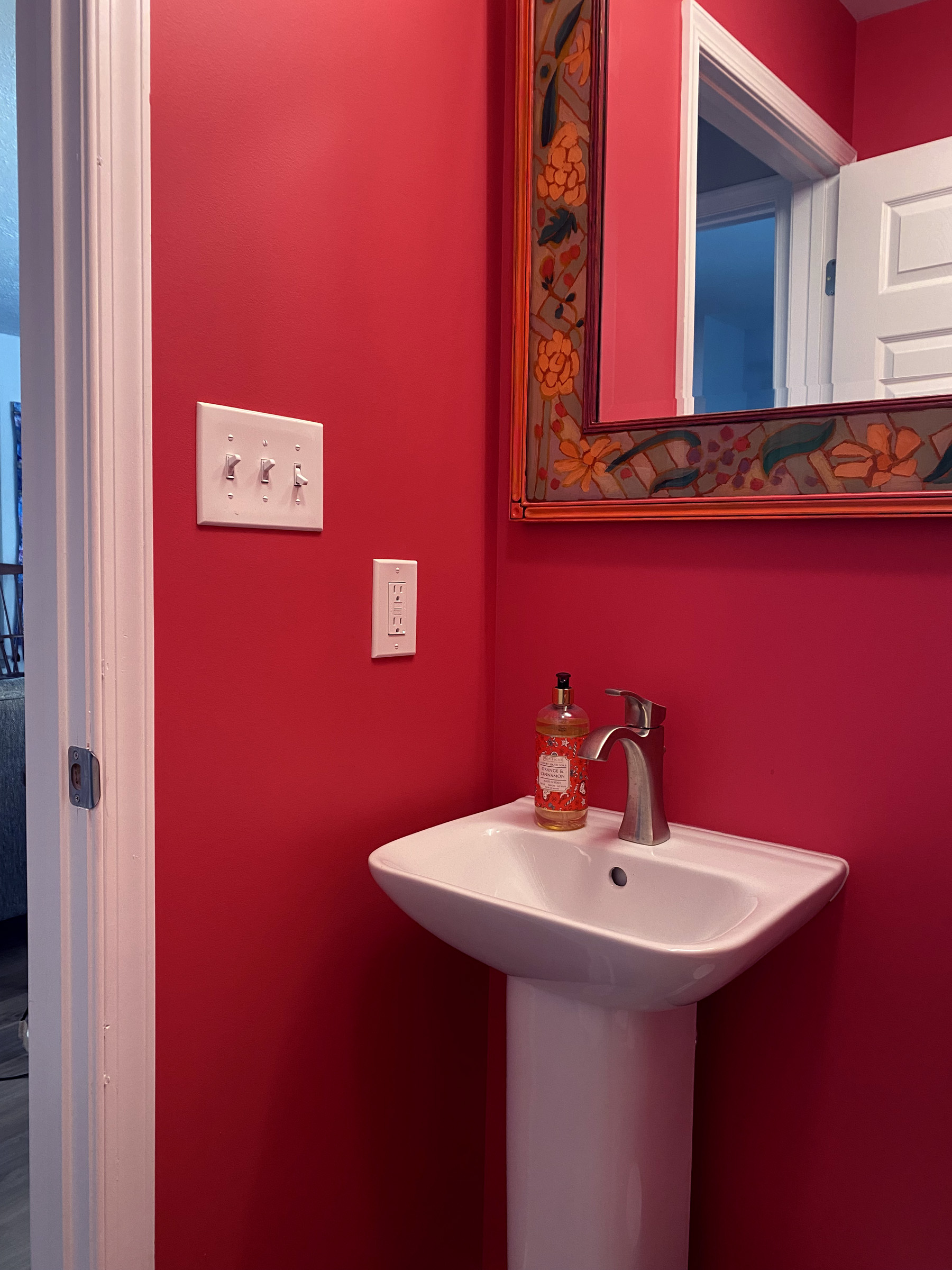 The pedestal sink, commode, and wood trim look smart in crisp white against this (SW6860) Eros Pink ( not EXACTLY the same shade as Viva Magenta 18.)  More importantly ~ I FEEL amazing when I step inside! Even the men feel amazing in this restroom:)
NOTES OF WILDFLOWERS & ITALY
Envisioning my hand painted Wildflowers Mirror adding width and depth to the tiny 4' x 4' footprint of the powder room, I painted the edge of the mirror a kind of Rose Vermilion. And planned white linen towels with floral calligraphy to match the wall.
However in person, you can feel the deep cool embrace of these colors envigorating your strength. So I began testing various paintings in the room to FEEL which would taste best. The bright orange rooftops in my Sorrento watercolor popped and sparkled against the whites in the room. So I spiced up the towel designs with orange!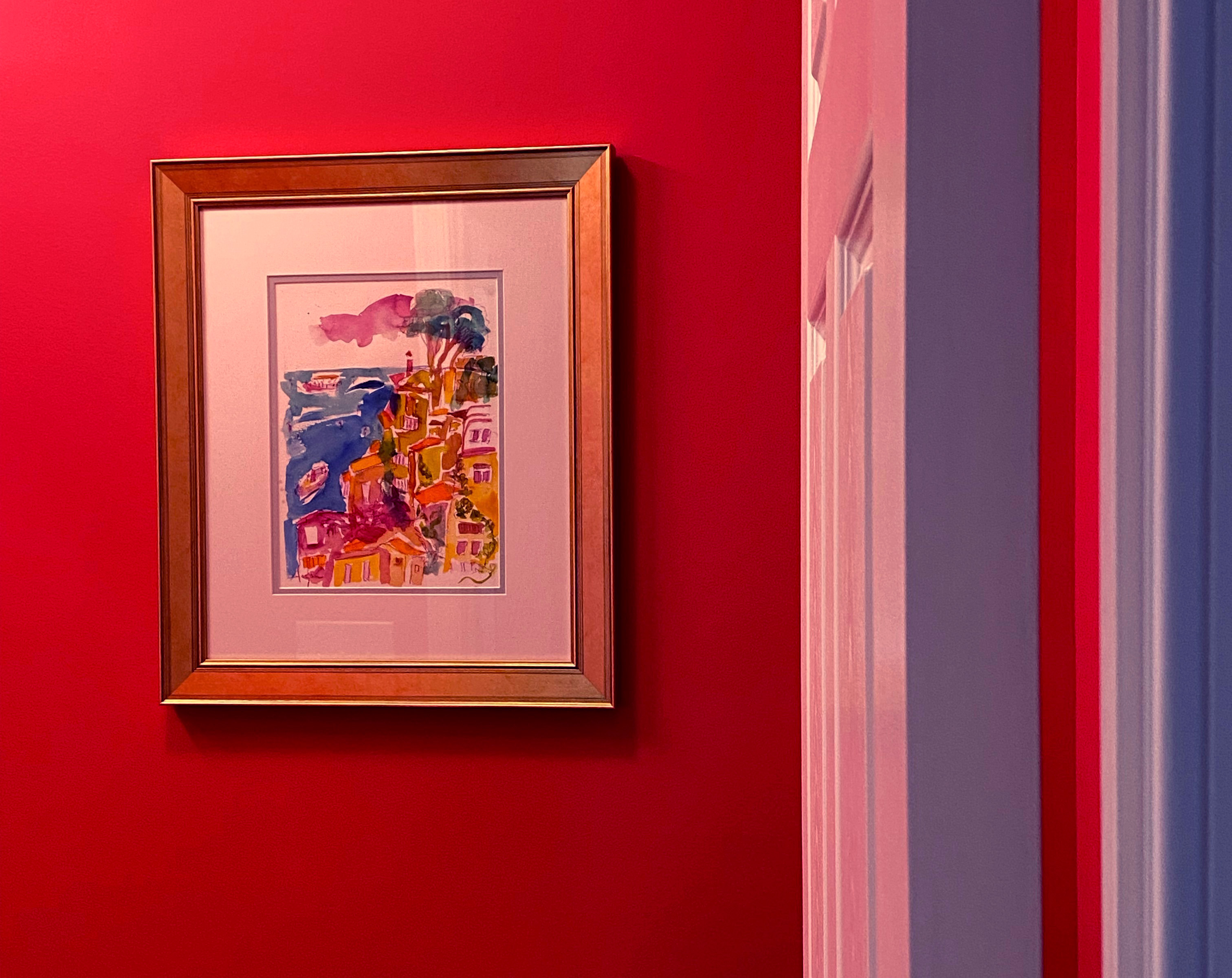 This watercolor is one I painted en plein air in Sorrento whie visiting Antonella. I perched my watercolors on the stone wall overlooking Marina Grande to paint this view of Capri and all the hydrofoils carrying tourists to Positano. Riding on the hydrofoil with Antonella, a dream come true! Find out more about this watercolor.
Floral Calligraphic Drawings
LINEN TEA TOWELS   >SERVING 3
To Everything a Season, Bloom
The first design in our set of three Floral Calligraphic Drawings, called To Everything a Season, Bloom is based on a painting by the same name. You can see the painting has an expressive calligraphy that lends itself to the expressive nature of this series. The original oil painting also a contains a wide contrast of black and white that will help anchor this design with others in the series. See more about this painting.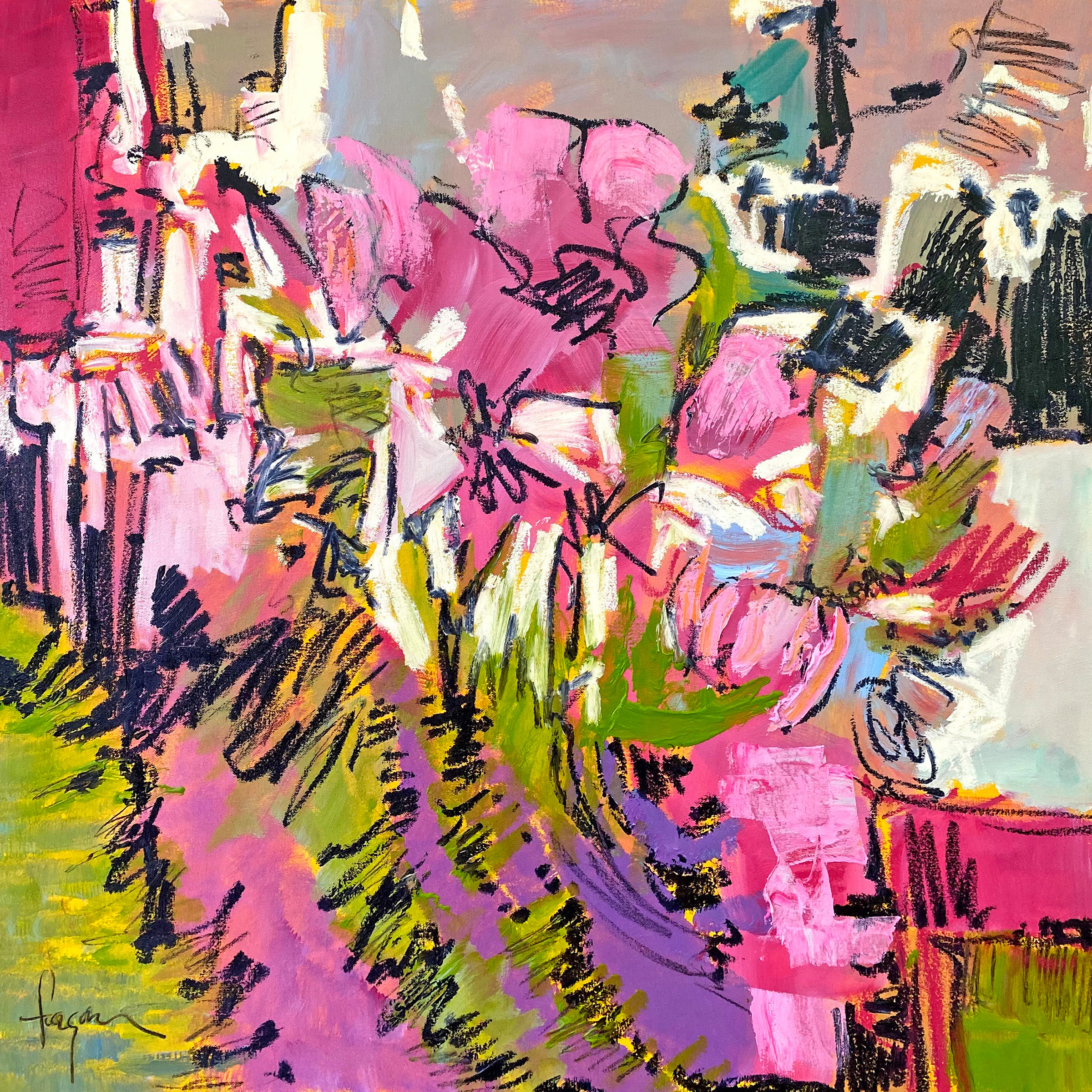 You can see the final design from this painting on the far left. Translated into orange and white, it sparkles like the watercolor. And you can imagine how it will feel on the Eros Pink wall in the powder room!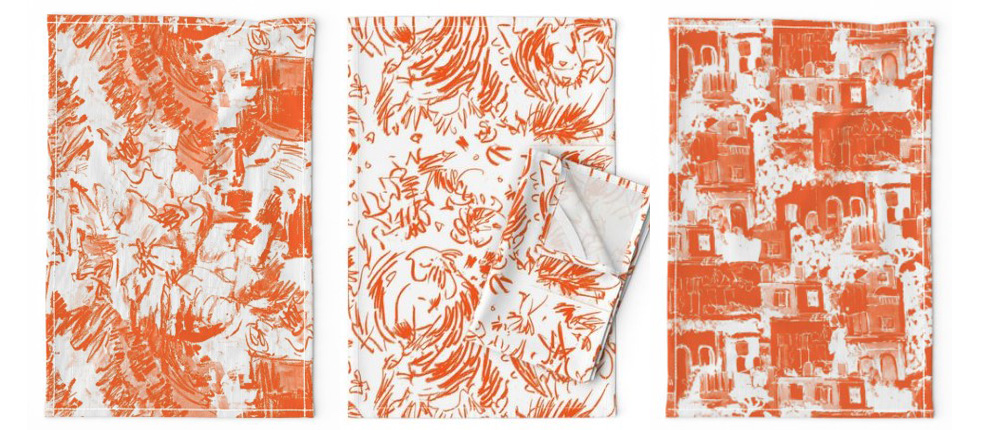 In orange and white from left to right; To Everything a Season, Fetching Dreams, and  Italian Villa. See full selection of home decor for each at the including duvet covers, sheets, pillows, throws, curtains, wallcoverings, table runner, napkins, placemats, tablecloths, fabrics, and of course tea towels at the links.
Fetching Dreams & Italian Villa
The second design in the series is called Fetching Dreams, based on several expressive willow charcoal drawings I created expressly for my fabrics collection. The third design is called Italian Villa, based on a mixed media painting created with charcoal and oil paint ~ inspired by my time with Antonella. Village II, (below) near and dear to my heart, has similar expressive calligraphy with masses of tonal color.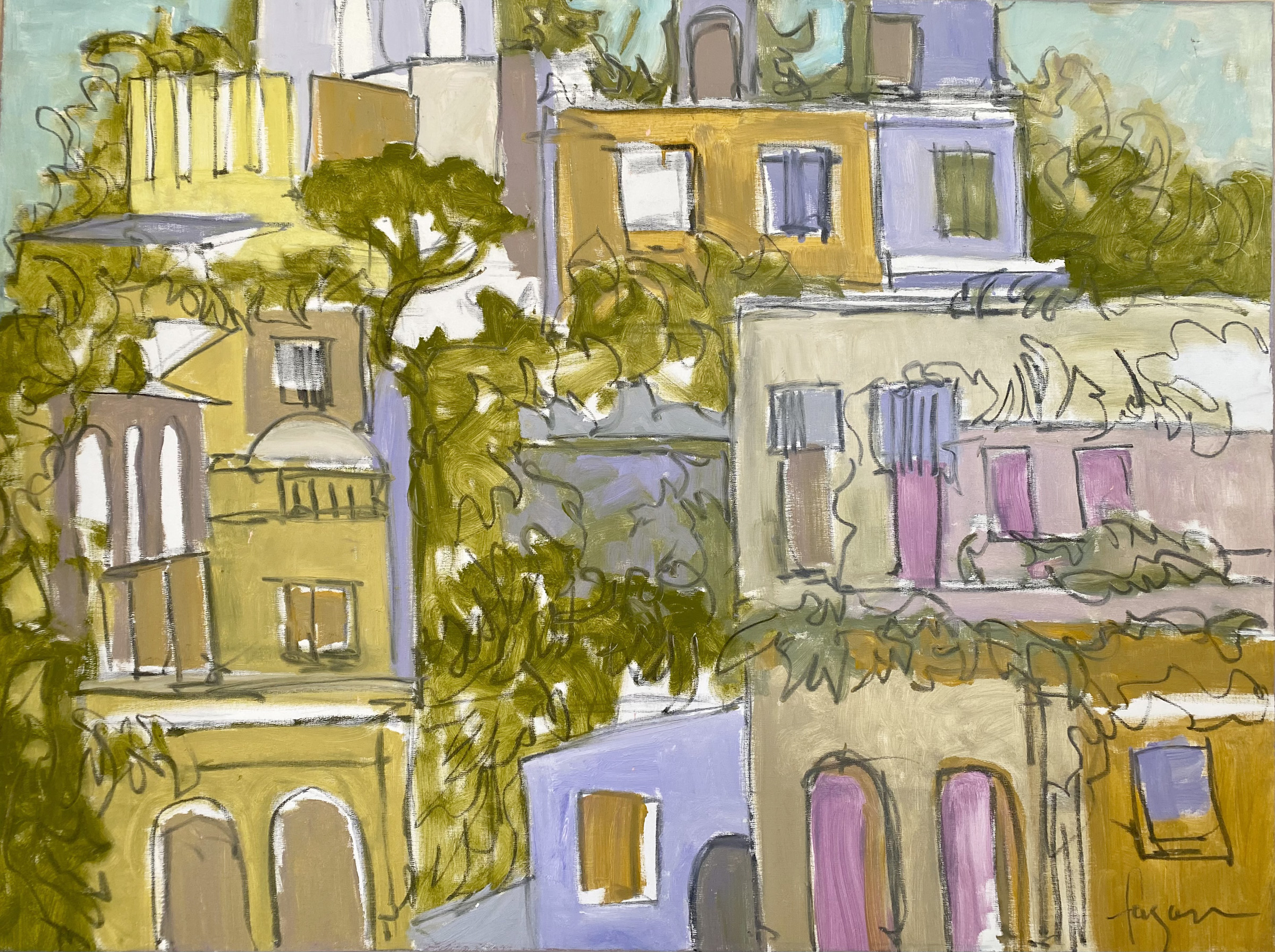 Curtains
In translating these designs into color and white, I played around with silver gray tones as an alternative to white. For curtains, tablecloths, bedding and such ~ these more tonal interpretations are preferable. You can find several color choices in meadow, teal, and orange with silver gray.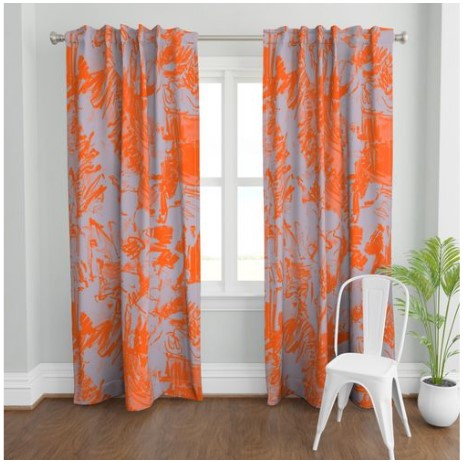 These calligraphic expressive drawing designs are available in viva magenta, meadow green, teal green, violet, and cobalt blue with white. The link will take you to the entire collection. To find the tea towels, click on the pattern then scroll down below the 'add to cart' button to find the Home Decor link, which will take you to ALL home decor items in your selected design.
Duvet Covers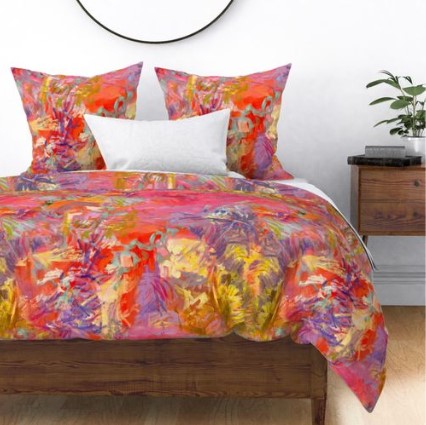 I have always designed a bedroom first with the duvet. This year I am starting with the art! This duvet is based on a painting called Tangerine Dream. The painting has more turquoise and yellow than the duvet. The fabric design for the duvet and pillows is called Blooming Moonflower Dream. 
Chef's Notes

LARGE SCALE DESIGNS FOR LARGE ITEMS
Oversize versions of these designs are intended for large items like duvet covers, curtains, throws, and sheets.
SMALL SCALE DESIGNS FOR SMALL ITEMS
Smaller scale versions of the same designs work best for smaller items like placemats, runners, pillows, and of course my tea towels (which I am also using in the powder room!) You can find them all in Viva Woman designs to mix and match to taste.
Suggested Servings
The power of Viva Magenta lies in the way the wavelengths short cut from heart to Creatrix! No kidding, Viva magenta is that color that connects spirit with primal earth energy, halfway between red and violet. And its opposite balancing color is heart centered green. So using them together feels energizing and amazing. 
Orange lies at the creative center of the womb, helping the energy rise. So pairing all three is sure to get your chakras moving. And everyone knows that chakras deliver energy to every cell in your body!
HEART CENTERED GREENS >for soothing comfort and easy living
Hydrangea in Greens
Start with a tablecloth in heart centered greens. This one is called Green Hydrangea, based on my Hydrangea painting. Find it in full strength cobalt blue here.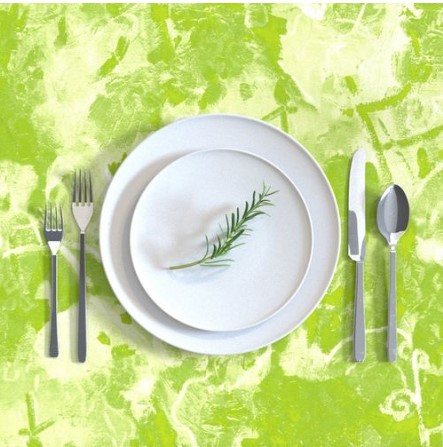 CREATIVITY CREATRIX COMBO >for energizing vitality
Hydrangea in Magenta & Orange
The same hydrangea pattern in viva magenta and orange could be a runner and placemats.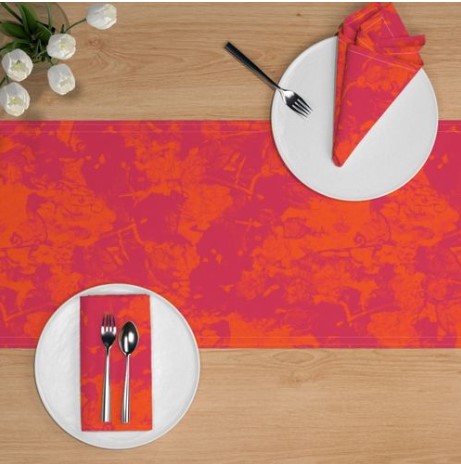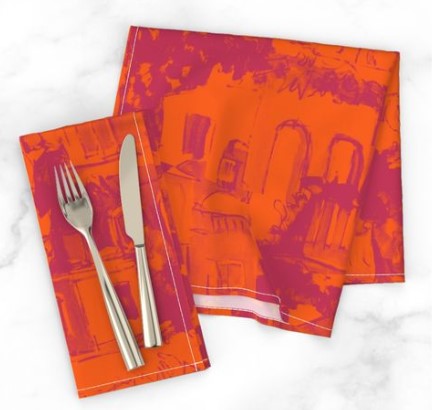 Italian Villa Dinner Napkins in viva magenta & orange
CREATIVITY CREATRIX SPIRIT PROWESS MEDLEY >for nuanced vitality & stamina
Blooming Moonflower Dream
Add dinner napkins or cocktail napkins in any combination of oranges and pinks that feels amazing to you.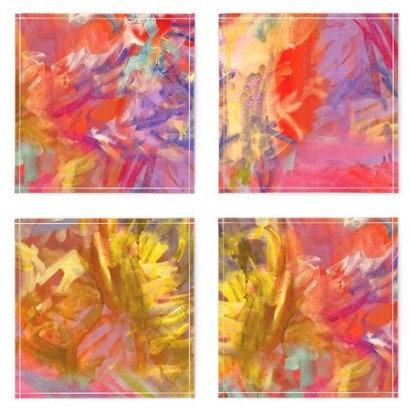 Blooming Moonflower Dream cocktail napkins
To Everything a Season, Bloom!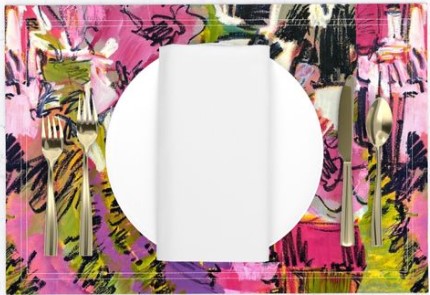 To Everything a Season, Bloom placemats, napkins, runner.
from Inspiration to heART ~ see it all!
Hear the inspiration behind my newest oil paintings, pastels, acrylics, watercolors, collage, fiber art, and one-of-a-kind rugs, fabrics, home decor ~ and stir up the healing power of color.
Are you someone who wants to know how I do ALL that I do?
How I process oil paintings, pastels, fiber art, designs for rugs, fabrics, decor, the whole creativSOUP story???