BOOKS & JOURNALS
Feed Your Creative Journey!
---
Joy's Garden Trio
It all began on a whim! I applied for a residency in France ~ and when I got the packet from Musee de La Grande Vigne, the first thing I had to do was have someone translate the instructions!  My whim became a dream-come-true that transformed my art, my artistic practice, and my life.
5 STARS for creativSOUP Books
creativSOUP with Dorothy Fagan

5.0 out of 5 stars
I LOVE this beautiful book!

Joy's Garden: Embrace the Mountain
Reviewed in the United States on May 18, 2018
Verified Purchase

"The author's story in itself is so brave, so authentic, so honest and moving that I was totally inspired all over again after being inspired by seeing her gorgeous art on line. Now I have this wonderful book with her story and paintings together and I treasure it. Thank you for being such a shining light in this world. Every time I see one of your paintings, I feel joy."

5 STARS

Amazon review

creativSOUP with Dorothy Fagan

5.0 out of 5 stars

This is an inspiring heartfelt journey with art into healing.

Joy's Garden: Embrace the Mountain
Reviewed in the United States on August 18, 2021

"Having come through trauma I drink in the tender paths walked, wisdoms shared and embracing colors Dorothy shares in this book. The loving wisdom from one who knows how deep the hurt goes and how it can be transformed into a part of the beautiful landscape of our lives is a gift to my heart. I have read it a couple times now in Kindle and it keeps embracing me in gentle unexpected ways. I am here to purchase a copy to hold now.

5 STARS

AMAZON REVIEW

creativSOUP with Dorothy Fagan

5.0 out of 5 stars
True beauty

High on a Hill with a Cloud and a Prayer
Reviewed in the United States on December 10, 2019

"This is a deeply personal and uplifting account from the author of the Joy's Garden series. Through pastels, oil paintings and a stream-of-consciousness text, Dorothy Fagan comes to terms with the loss of her father.

5 STARS

AMAZON REVIEW
Feed Your creativ HEART
---
Breadcrumbs from my real-life footsteps of my creative journey
See my paintings, sketches, photos, dreams, wishes, poetry, and create your own journey!
When I landed in France, I felt as though I'd awakened in a dream! I'd always know myself as a landscape painter ~ yet the landscape in this new place was somehow different. Symbols in my dreams came to life in my paintings. More questions than answers, each painting opened me to new possibilities for an artistry I'd hoped would someday be me!
In the book, you'll find the story of how I transformed my palette. And you'll find juxtaposed my dreams, photos, sketches, paintings, and breadcrumbs for you to follow along on your own creative journey. Along with the Companion Journal and adult coloring book, I've designed to help guide you in expanding your own creativJOURNEY. 
As you read my story, you'll need a place to jot down all those inspirations! So I've designed the Companion Journal with paintings from the book and plenty of journal space to help ground your own dreams! 
CreativSOUP Coloring Book contains illustrations created from my France landscapes ~ the kind of artist's illustrations that will make you think like an artist, seeing the abstract shapes ~ not just coloring in the lines! And there are also creativSOUP recipes you can try out for yourself. 
Find all three on Amazon.
BOOK 2 
Goddess Stepping Out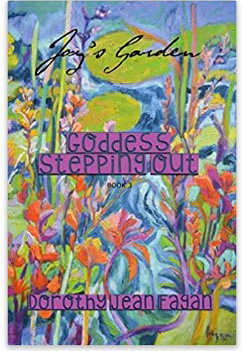 Do you know a timid goddess???
Help her step into her OWN!!! From my personal journals, you'll hear the timid poet and see the paintings that made her so. Find it on Amazon. Goddess Stepping Out.
BOOK 3
Mystery of Two Sisters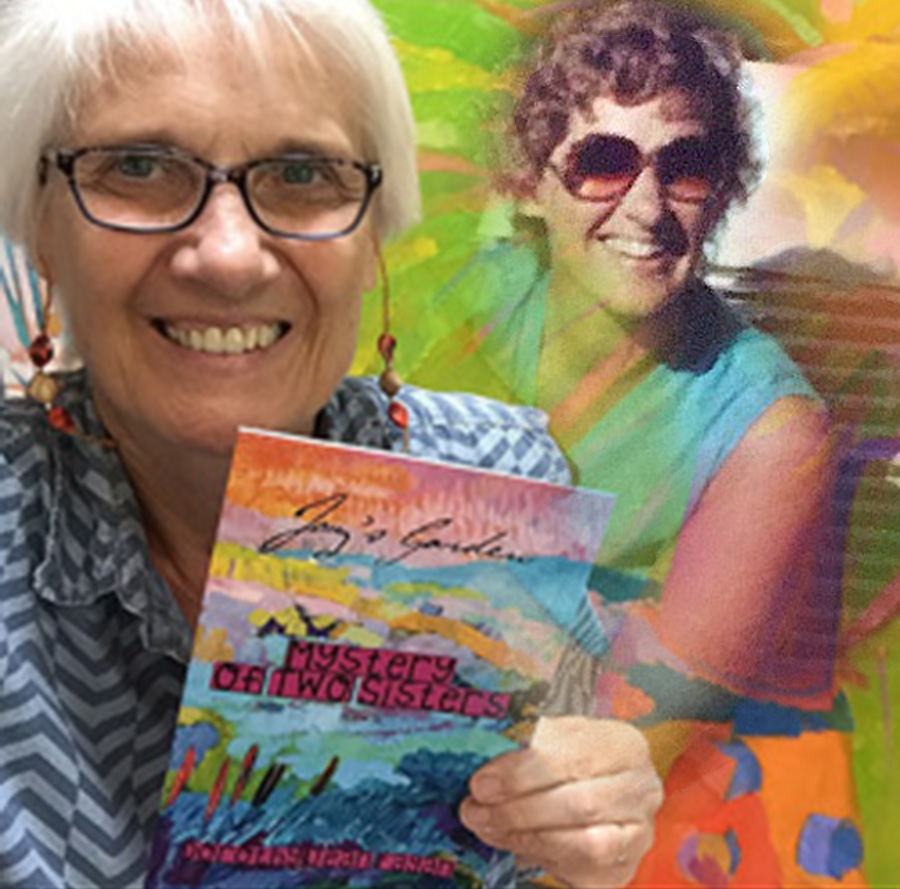 Mom speaks to me!
Pauline passed away 35 years ago, and still I receive her messages! You are probably receiving messages from loved ones who have passed. Perhaps you don't recognize them!
See inside my creative process, my private journals, and discover my secret ways of hearing Mom's inspirations.  Find this story in The Mystery of Two Sisters.
BOOK 4
High on a Hill with a Cloud and a Prayer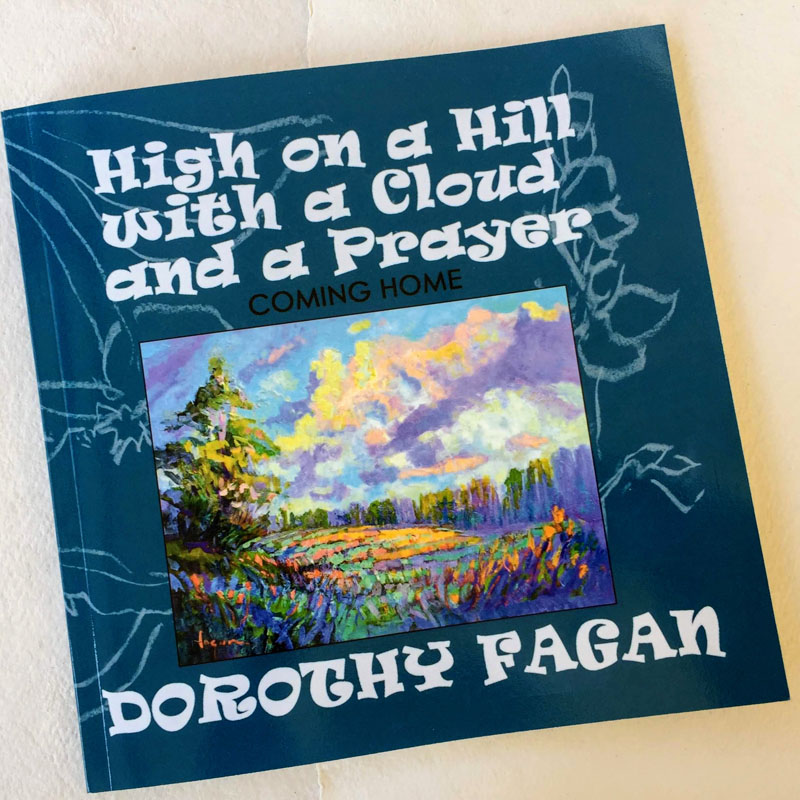 As Dad passed, he sent me a message at the crossing
I visited Dad on his deathbed, painting two portraits of him as he prepared to go. In the days that followed, he met me as I painted plein air ~ as he was crossing into heaven. See the painting and read this inspiring message he sent, and more in High on a Hill with a Cloud and a Prayer.